Nadine Dorries, Tory scourge of the Posh-Boys has become the second MP to take up the challenge of reality TV by going into the Jungle with 'I'm a Celebrity, Get Me Out Of Here'. Her constituents are said to be not happy. Twitter is disparaging. The Conservative party has suspended her whip, and her constituency association have taken a dim view. But is she playing a long game?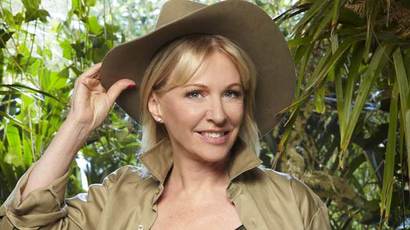 I have no interest in morality of MPs taking time off from the house. Their job is not, as many imagine, attending debates and voting. Nor is it the "social work" dealing with constituents' drains and so forth. Their job is to influence policy and scrutinise legislation. Taking up issues on behalf of groups, and arguing their case in parliament. This may be geographic: the Irony of cash-for-questions and the more recent lobbying scandals is that the person who's JOB it is to lobby for your interests is your local MP, and he'll do it for free. Other MPs have taken up causes and will ask questions on your behalf, if they agree with you.
Dorries represents the Christian, socially conservative right wing. She is the MP for the Daily-mail. A slightly more photogenic Anne Widdicombe, whose barbs perhaps lack the wit of Doris Karloff's "something of the night" but lack none of the political toxicity. "Posh boys" has stuck. And her excuse that her crusade for the rights of the unborn child might get more of an airing in reality TV land rather than parliament is not entirely far-fetched. It's clear the issue is unlikely to be debated soon, and if it is, she's unlikely to get her way.
However many constituents the BBC can dredge up to say "it's disgusting she's not doing her job", Dorries has calculated, perhaps correctly, that most of them will have forgotten why they've heard of her by the time of the next election. And watching her be rather normal, perhaps many will decide they like her. Just as Boris Johnson is liked in part because he made people laugh on 'Have I Got News For You', perhaps Nadine, a former nurse, and therefore unlikely to be squeamish, will shine in comparison to the drippy non-entities in the Jungle.
At the end of her stint, she will have name-recognition that all but the holders of the big 4 offices of state would kill for. And given that her Mid Bedfordshire seat is supposed to disappear in a boundary review (if that goes through, which is unlikely), a career as a reality TV star and minor 'sleb might be a useful fallback for after parliament. She is being introduced as a Conservative MP. She may even detoxify the Tory brand. I suspect further punishment from Number 10 and the whips' office will depend on how she does. This is a bid to make a Back-Bench MP, extremely unlikely to get a ministerial Jaguar, much more powerful.
But she will be more effective in representing her constituents, and like minded anti-abortion campaigners, if she's successful. All she needs to do is avoid anything as grotesque as Gorgeous George's cat impression. Which will be hard.
http://bracken.uk.com/wp-content/uploads/2012/11/167679-nadine-dorries.jpg
230
410
Malcolm Bracken
http://bracken.uk.com/wp-content/uploads/2017/07/logo-2.png
Malcolm Bracken
2012-11-12 18:48:00
2017-07-21 01:43:25
Nadine in the Jungle.