I noticed a minor Twitter-storm recently. American retailer, JC Penny was selling a T-shirt, Which bore the Legend "I'm Too Pretty for Homework, so My Brother Has To Do It For Me.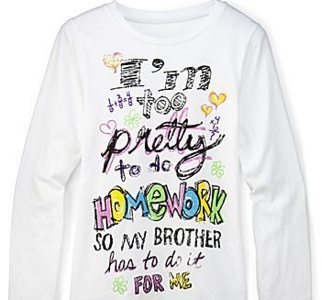 Pretty crass. If I saw it, I would think that I wouldn't want MY daughter wearing that, and I wouldn't buy it. But then I believe in freedom. A lefty seeing the same thing has exactly the same reaction, but adds "… and I think NO-ONE should be ALLOWED to buy it either"
They then accuse the store of Gender Stereotyping and furiously dash off angry screeds, and then bask in the glow of VICTORY when JC Penny put the following up
"JCPenney is committed to being America's destination for great style and great value for the whole family. We agree that the "Too pretty" t-shirt does not deliver an appropriate message, and we have immediately discontinued its sale. Our merchandise is intended to appeal to a broad customer base, not to offend them. We would like to apologize to our customers and are taking action to ensure that we continue to uphold the integrity of our merchandise that they have come to expect."
I mean I sort-of agree, I sort of understand, but it just wouldn't occur to me to give a shit enough to do anything about it beyond not buying it. This endless activism of the left, over mere trifles like t-shirt slogans strikes me as a bit hysterical, and it scares me, as it's more evidence of the left ruling offside speech they deem wrong. Today, a mildly offensive kiddies t-shirt slogan. Tomorrow, criticism of the Sainted Obama. Am I wrong to think like this and fear their tactics?

https://bracken.uk.com/wp-content/uploads/2011/08/wp-content_uploads_2011_08_runninscared_Screen-shot-2011-08-31-at-11.03.48-AM.jpg
300
322
Malcolm Bracken
http://bracken.uk.com/wp-content/uploads/2017/07/logo-2.png
Malcolm Bracken
2011-08-31 18:32:00
2017-07-21 01:43:39
Too Pretty for Homework...