I often get accused of being anti-car. I am not. For most journeys of longer than a few miles, and for moving goods about the country, the motor vehicle is simply the best tool for the job. I just accept the car is often not best tool for the job, and universal car use has a number of negative effects. This leaves an enormous number of journeys for which the car shouldn't be the first choice. My problem is that people are forced into cars, as other options have been, effectively, denied through short-sightedness and poor urban design.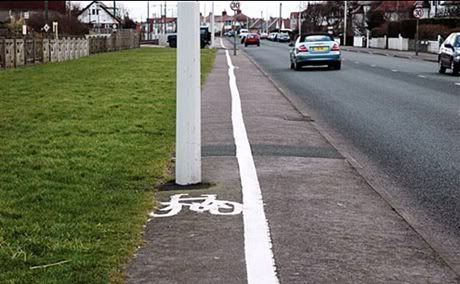 Would you use this? More Rubbish Infrastructure
here
.
Margret Thatcher hailed in 1989, the "Great Car Economy", embarking on a grand scheme of road-building, which like so much the Tories do, brings out the crusties in vicious and bitter protest. A decade of Swampies living up trees led to the abandonment of "the biggest road-building scheme since the Romans".
More recently the claim is often made that petrol taxes "hurt the economy". Of course they do, but the question should be whether fuel duties hurt more, or less than other taxes. I argue they don't hurt any more than income taxes. The Conservative-led government faces protests by drivers who don't want to pay & feel there should be more roads, that road-building will be the key to stimulating the economy. This is one of the few areas of expenditure, along with the provision of free-parking, that the tax-payer's alliance can be relied upon to support. It ignores the costs of motoring.
Let's go through the hidden costs of "the Great Car Economy".
Cars make towns noisy and stressful. You can estimate the cost of this by looking at houses on main roads, which often cost 30-40% less than those in quiet cul-de-sacs less than a hundred yards away. There's an economic externality of car use, costed for you, right there.
Every 40 cars, roughly, represents £1,000,000 in capital expenditure. For much of the country, that's £2,500 per year, per car. For 95%of the time, this capital is sitting, unused in parking lots. Is this not a colossal waste of resources on a scale equivalent to the Great wall of China? Those parking lots are unsightly, and represent an enormous waste of potentially valuable land, which reduces the value of the area around it. This too is a waste of resources.
Cars facilitate harmful behaviour. People under-estimate how much a long commute makes them miserable, and over-estimate how much a big house makes them happy. People therefore live a sub-optimal distance from work, a long way from family and friends. People are less happy than they would otherwise be.
Cars have changed the built environment, brought about urban sprawl, which atomises society. Cars have driven other options – bicycles and walking out of the picture, by making them so unpleasant. It is simply not enjoyable to share space with tons of speeding metal. As a result, there are few 'local shops'. The car encourages big-box shopping, ripping the heart out of town centres.
Once you have spent 60% of an annual salary on a car, you tend to use it for every journey even ones where (once you've parked) would be quicker to walk. This leads to obesity and ill health. Driving, especially in heavy traffic, is stressful. Adrenaline and Cortisol, when not accompanied by exercise, is hard on the heart and encourages fat deposits. Even if you go to the gym, the damage done by stress hormones while driving is difficult to burn off.
The problem, ultimately is that overuse and over reliance on one transport technology has created a sub-optimal equilibrium. People cannot see beyond THEIR car and the need for it. Blinded by a set of cognitive biases and perverse incentives, the car is used for every journey. And of course, as we've organised society completely around it since the mid-70's, people feel they've no choice. They're probably right. At present, there is no alternative to having £30,000 worth of depreciating metal on your drive. Public transport is simply nasty, as I laid out in detail in this post, a while ago, and we now live too far from everything to consider any other solution.
Ultimately the conclusion is that more roads and more cars isn't the answer. Cars simply fill any extra space, and if you build "enough" space, you get Milton Keynes. We must do things more cleverly.
So, the experiment in the great motoring society has gone as far as it can go. Any further increases in the number or use of cars are likely to generate negative returns to human happiness. It is Government's role therefore to provide infrastructure to other alternatives: a network of cycle tracks and city infrastructure – not to exclude the car, but to provide an alternative, to both tribes' benefit. Motorists should remember the most tireless campaigners for smooth roads are cyclists for whom a pot-hole is not only a punctured tyre, but potentially a broken collar bone. The infrastructure can and should be built with all road-users in mind.
The solution to these problems, is to organise a system where there are fewer cars, used more intensively.
Technological change will help. Nevada has just issued a license for Google's automatous car. This will, in time, enable fleets of driver-free vehicles to act as taxis. It doesn't take much imagination to see this working very much more cheaply and efficiently than a situation where everyone has their own depreciating asset, though this is several years away. Fewer cars, not being driven by people, means a safer and less threatening road environment for other users. Although the total cost of hiring a self-driving car for each journey may in time become lower than owning a private car, the fact you're making a marginal decision for each journey, rather than the costs being concentrated in one enormous sunk cost of purchase, will tend to make people consider alternatives in a way they currently don't. Even if the volume of vehicular journeys increases, driverless cars will be more efficient users of fuel and road-space. They will also be safer.
People are simply not designed to drive. Our lizard-brains simply can't cope. The road environment and the cars on it have been made forgiving to the inadequacies of people driving cars, but it is something no-one can do successfully. Don't believe me? Ask the insurance industry. Racing drivers, those who ACTUALLY can control a car better than anyone else are not considered a good risk. People tend to compensate for extra safety features in their car or any extra skill, by taking more risks. The risks are most keenly felt by people without a ton and a half of steel wrapped around them.
In time, insurance costs will dictate that cars will not be allowed to be owner-driven on the public roads. At present, the only tool with which you can, by recklessness kill someone and escape gaol, is the car. This will change and machines will make better drivers than us.
I am not anti-car. I accept the benefits, and the necessity for widespread car ownership at present. It's just that it's used for over 90% of journeys. People don't walk to the pub anymore, neither do kids cycle to school. And the reason is that the car has changed towns – there are no local services in suburbs any more; ourselves – most of us are fat, and feel the need to change into special clothes to walk a mile; and the environment – the roads are simply too hostile to allow your kids to cycle to school.
If you can address the inappropriate journeys – in particular the school run, much of the congestion motorists currently suffer, would vanish. Kids SHOULD enjoy the independence of making their own way to school, as they do on the continent. This requires investment in infrastructure to separate the cyclist from the motorist. Many (not all, obviously) people would like to cycle to work, but feel it's too unsafe. Investment in infrastructure would take a few of these cars off the roads at peak times too. And if we can encourage delivery driving overnight though a fuel tax rebate, we can have smoothly running roads for everyone, all day.
Every cyclist commuting to work, is one fewer in other motorist's way. But the the entire national cycling infrastructure budget is less than that to widen 4 miles of the M25. Even footpaths are often sub-standard and blocked by (what else?) parked cars. Ultimately, those who want to walk and cycle shouldn't be put off by crappy infrastructure because the car enjoys 99.99% of the spending and an absurdly privileged place in society. If we can change this, then those who still want to drive will have a more enjoyable time too.
https://bracken.uk.com/wp-content/uploads/2012/05/crapcyclelanes.jpg
284
460
Malcolm Bracken
http://bracken.uk.com/wp-content/uploads/2017/07/logo-2.png
Malcolm Bracken
2012-05-10 08:12:00
2017-07-21 01:43:30
The Great Car Economy.